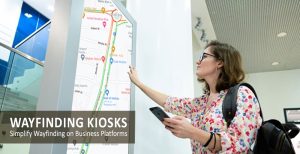 Businesses and organizations can communicate with their visitors and employees more smartly than ever before. Unlike static signs and boards, interactive Wayfinding kiosks give easy self-access to users to directly explore your area, gather details about running services and find their way in no time.
In busy environments where there are hundreds of employees and departments, wayfinding kiosks can streamline business operations with less resource deployment by combining the:
Smart sensor detection technologies
IoT functionalities
Indoor mapping plans
Remote data integration
Quick and remote content addition and renewals.
WHAT IS A WAYFINDING KIOSK? HOW DOES IT SIMPLIFY WAYFINDING?
A wayfinding kiosk is an interactive display or a digital signage that helps visitors to find their way and fetch information. It also allows easy navigation in unfamiliar high-traffic environments such as airports, malls, hospitals and transport facilities.
While kiosks with touch screens enable visitors to interact easily, at the back end, these digital signage are powered up by efficient software. A wayfinding kiosk must meet consumer expectations and convenience with the right application and managerial software. Most of the kiosk systems in airports, malls and larger venues feature a 2.5D navigation model that allows indoor mapping and path forming.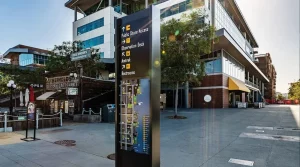 For instance, the operating system within a wayfinding kiosk in giant business structures helps visitors to know their current position, where they should go and how to get there. Such kiosks designs are made functional with 2D and 3D mapping plans and smart location sensors, which run by focusing on three core elements:
Navigation signatures help users to analyze the distance to their destiny by signaling a physical mark. Such as a red pointy flag or mark on target destiny and a blue mark on where they are.
Orientation directs users by oral or written instructions to let them know where they are and the time to reach specific points or landmarks. Such as, 'You're heading towards the north.
Landscape or geographical features on 2D mapping systems assist navigation by showing contour lines, symbols and marks for rivers, bridges etc.
On the other hand, intelligent management software within a directory kiosk allows easy upgradation, content management and security features. In addition, the remote functionalities help managerial staff to sort and upgrade apps remotely without physically visiting the sites.
WHICH INDUSTRIES ARE USING INTERACTIVE WAYFINDING KIOSKS DISPLAY?
By cutting down operational times for wayfinding and enhancing customer satisfaction, automated wayfinding kiosks are emerging as the future tool for all businesses.
While there are some practicing industries:
1. WAYFINDING KIOSKS AT HOSPITALS:
Interactive digital kiosks reduce anxiety among patients, families, visitors and new staff employees. Furthermore, these kiosks help to find and approach relevant departments and select their medical specialists or surgeons under extreme emergencies.
2. AIRPORTS:
Individuals are often unfamiliar with gateways and other locations at larger venues like airports. Wayfinding kiosks at airports allow passengers to easily find entry and exit locations and crucial information regarding flights by scanning their boarding passes.
3. TRANSIT STATIONS:
Outdoor wayfinding kiosks offer great help to transit stations. Visitors can get an insight into travel times through wayfinding maps. Also, by choosing their destiny and getting aware of the calculated time, they can select the perfect ride to mark their presence on time.
4. WAYFINDING KIOSKS AT SHOPPING MALLS:
To purposely serve wayfinding to visitors, wayfinding kiosks at shopping malls are mostly placed near entry gateways. The right kiosk placement and interactive displays allow shoppers to view different floor maps with shop names and brand logos. Consequently, it saves their time wandering around to land in the right spot.
5. WAYFINDING KIOSKS IN BUSINESS BUILDINGS:
Most hybrid offices use wayfinding kiosks in business buildings that integrate floor maps with desk booking systems, allowing employees to book their desks for close collaboration with their teammates. Also, surprised visitors are entertained with quick navigation to meeting rooms and other departments, leaving a positive visiting experience behind.
6. WAYFINDING KIOSKS AT AMUSEMENT PARKS:
Nowadays, wayfinding kiosks at amusement parks entertain travelers and tourists. Such kiosk design allows outdoor wayfinding through GPS navigation systems. The GPS directions are hand-off to mobile devices from the kiosks when visitors send a text to the specific numbers written on the user interface. The system instantly catches the request and allows users to explore the area without being lost.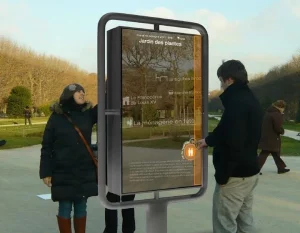 Before you go,
BAOBAO HAS GOT YOUR WAYFINDING KIOSK DISPLAY SOLUTION!
We cater wayfinding solutions to your large-spaced organizational needs with the perfect engineering of our interactive digital signage for Wayfinding or directory kiosks. Moreover, our models are easy to integrate with hardware components that won't even spare a moment to serve your visitors with a smooth guidance mechanism.