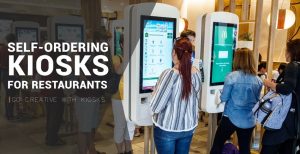 Individuals feel more empowered when they're the boss of their own. Self-ordering kiosks for restaurants and takeaways can meet consumer expectations with easier and quicker Ordering.
Entry kiosks can do a lot more besides simplifying ordering procedures and allowing a consumer to have easy access to the following areas:
Power to choose their meals.
Explore your menu table.
Insight on new launches and discount offers.
Submit meal orders on their own.
Instant update on the order receiving time.
Self-payment through convenient payment options.
Some of the runners in food chain supply, like McDonald's, Chili's and many other major quick-service restaurants (QSRs), have been widely introducing self-serving kiosks to their dining systems. Not only does it boost their turnover, but the customers' feedback reveals the rising interest in returning to such places more often.
BENEFITS OF USING SELF-ORDERING KIOSKS FOR RESTAURANTS:
Restaurant self-ordering kiosks are turning out to be the most impressive tool in increasing turnouts and future sustainability.
Let's dive into the perks below to learn how!
1. ADDING AESTHETICS TO BRAND ENVIRONMENT/AESTHETICS WITH MINIMALIST INTERIOR SETUP:
A good thing about using kiosks is the choices for customization. A lot of busy restaurants and stores are more creative with the kiosk designs that drive more customers near them.
Most importantly, adding workplace convenience and completing their interior theme.
For instance, any QSR who needs more runway space and wants to avoid obstacles would prefer wall mount or window kiosks. Some restaurants might work under an evening dining setup with bright luminous, and custom-added LCD panels.
2. FILLING COMMUNICATION LOOPHOLES:
Freestanding self-service kiosks are an effective solution to overcome labor shortages. With less staff deployment, ordering systems can run smoothly while meeting customer expectations at the same time.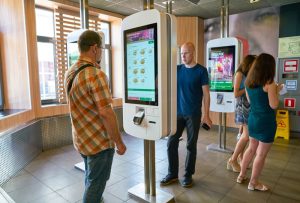 Quick-service restaurants can also meet additional orders during rush hours by running manual procedures and ordering kiosks side by side. So, self-ordering kiosks enable the business to enhance customer experience by reducing wait times and increasing productivity.
3. INCREASE PROFIT MARGINS BY UPSELLING AND CROSS-SELLING STRATEGIES:
On average Ordering, kiosks increase order sizes by 30% by implementing up-selling and cross-selling strategies in kiosk programming.
Up-selling by kiosks display drives satisfaction among customers. Knowing what add-on offers to suit their budget makes them less reluctant to make prompt buying decisions.
However, cross-selling with display kiosks reminds customers to complete their existing orders with complementary items such as salads or drinks.
4. MAINTAINING A HYGIENIC ENVIRONMENT:
After the pandemic, Individuals are now more hygiene conscious than ever. A self-service kiosk can ensure the best hygiene practices by contactless serving.
The interactive display at entry kiosks helps customers keep social distancing without needing much staff assistance. While disinfectants can clean the setups, customers are also allowed sanitization at these terminals.
5. IMPROVE CREDIBILITY BY ORDER ACCURACY:
Self-order kiosks are largely reliable for increasing order precision. The problems of mishearing and wrongly communicated orders can be eliminated using a self-service procedure, creating a healthy workplace environment.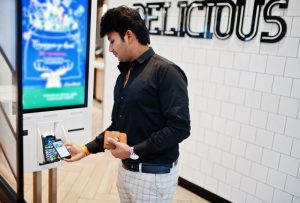 On the other hand, it increases customer satisfaction. They are free to cross-check the number of items in their shopping cart, ensure they have the right number of bucks and pay the due amount. Thus, getting the right order delivered in the end encourages greater contentment and trust-building among visitors.
6. RETAINING CUSTOMERS THROUGH LOYALTY PROGRAMS:
Customer retention is an integral part of any business. To keep them coming back for more, store owners program their kiosks with loyalty offers. This serves as an intuitive marketing strategy which allows customers for discounts on their purchases.
By signing up for loyalty programs, businesses can turn one-time customers into regular ones. Once they enter their details, the kiosks quickly identify them, which is extremely hard to run manually. As a result, business sales aren't affected much by changing trends and consumer behavior.
BOTTOM LINE:
It shouldn't be unfair to judge that self-service kiosks will be the future tool for fast-serving businesses to entertain tech-savvy millennials. Businesses must ensure their kiosks' design and user interface complement their unique needs and meet customer expectations.
Installing the right self-ordering kiosk and user-friendly programming allows in-store operations to be more streamlined, cost-effective, and successful enough to combat future challenges.
Looking for a reliable kiosk LCD touchscreen manufacturer?
Are you looking for a reliable kiosk LCD touchscreen manufacturer? If yes, you can contact BaoBao Industrial. We manufacture high-quality and cost-effective industrial touchscreen monitors for self-ordering kiosks and other commercial applications. Contact us now and get your customized sample order.
FAQs
Q1: What is a self-ordering kiosk?
Answer: A self-ordering kiosk is a free-standing physical structure that allows customers to place and pay for orders directly to the kiosk. These kiosks have Touchscreen LCDs and all the POS capabilities that make the customer payment process easier and quicker.
Q2: How much does a self-ordering kiosk cost?
Answer: It all depends on the required specifications and order quantity. A standard self-ordering kiosk costs between $1200 to $20000. Other factors include display size, touch technology and additional equipment integrated into the kiosk, such as NFC Reader.
Q3: How can I get a customized self-ordering kiosk LCD touchscreen?
Answer: You can get a self-ordering kiosk LCD touchscreen from different trusted industrial touchscreen manufacturers. Quote your required specifications and target price to them. While ordering in bulk, we recommend you get a customized sample order first.